📦 Prazo de entrega mundial de 5 a 15 dias.

🎯 Política de devolução sem risco de 30 dias

💯 100% de satisfação garantida

vamos! Olha esse rapazinho delicado!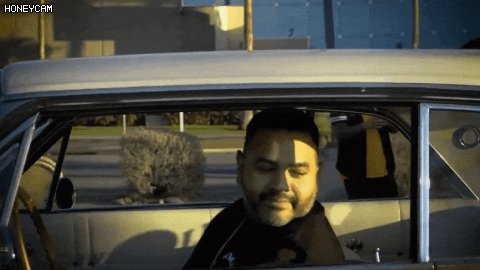 Cada detalhe foi criado com cuidado e paixão, com precisão e detalhes proporcionais. Crachás internos e externos decoram o corpo e o interior. 23 peças moldadas individuais cromadas são usadas para fazer as partes do corpo. Luzes LED opcionais podem ser usadas para cruzeiros noturnos. As janelas transparentes são decoradas com folha de cromo de alta qualidade para completar a aparência ultra-realista. A atenção aos detalhes continua sob a carroceria, incluindo a estrutura do chassi, caixa de câmbio artificial e eixo traseiro sólido prático com tampa do diferencial removível.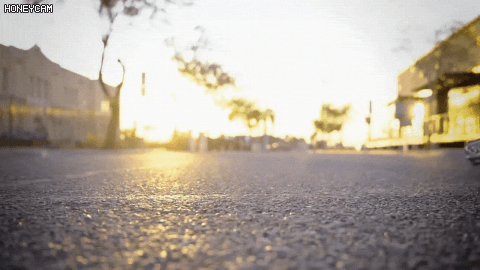 Designed for slow cruising and performance skills, and these skills can only be accomplished with a special hydraulically driven suspension. Using a professional servo system and precise weight bias, it replicates the driving style and overall appearance of a full-size low rider/hopper.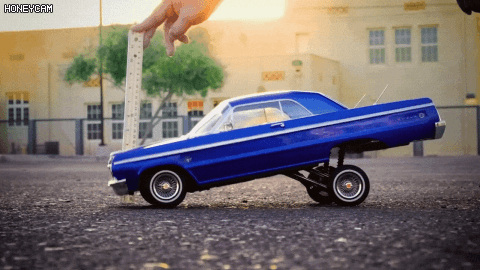 Vehicle characteristics:
Full-featured official authorization and highly detailed body
14-inch spoke wheel
Detailed chrome-plated injection molding decoration
LED light kit is ready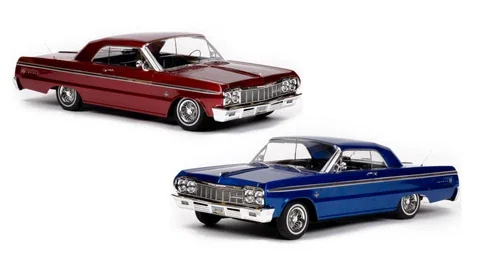 Mechanical properties:
Patent-pending front suspension jumping mechanism
Real-time adjustment of ride height
Super fast customized REEFS RC jump servo
Two 25KG rear axle height adjustment servos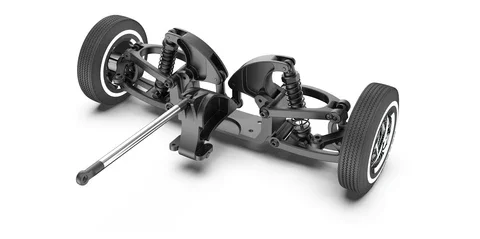 Radio function:
6 channel LR6X radio control with low rider style switch
Each of the 3 height adjustment servo systems has a separate switch

Interruptor momentâneo para elevar a parte dianteira ou traseira à altura / salto máximo de deslocamento

Botão momentâneo para abaixar a parte dianteira ou traseira para a altura de passeio mais baixa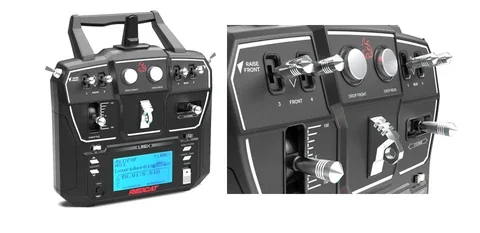 Especificação:
Proporção do veículo: 1/10

Comprimento: 519 mm (20,5 polegadas)

Largura: 223 mm (9,2 polegadas)

Altura: 145 mm (5,7 polegadas)

Distância entre eixos: 287 mm (11,3 polegadas)

Transmissão: para frente e para trás

Tipo de engrenagem de direção: 4 engrenagens de direção - engrenagens de direção de salto de recife - duas engrenagens de direção de içamento traseiras - 1 engrenagem de direção de direção

Tipo de controle de velocidade: 40a escovado ESC, 5a 7,4v BEC

Sistema de rádio: rádio LR6X-6 canais de design personalizado com controles Lowrider

Bateria: 3800mAh NIMH com carregador USB

Precisa funcionar: 4 pilhas de rádio AA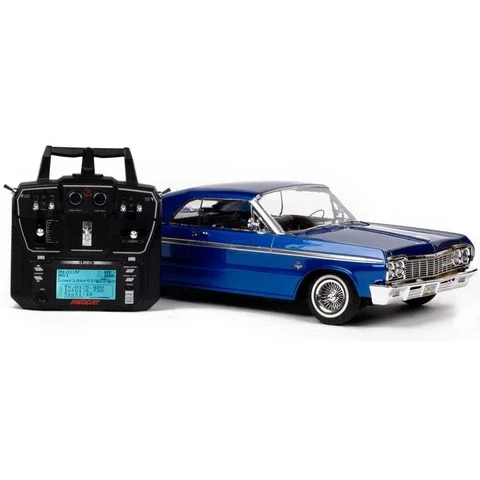 🌎 Frete para todo o mundo ✈
Observe que o envio é segurado e leva de 5 a 15 dias úteis em todo o mundo. No entanto, você pode receber seus itens mais cedo. Os números de rastreamento SEMPRE serão enviados para que você possa acompanhar cada etapa do caminho! Vale a pena esperar por coisas interessantes! 😉